Live a culinary & multi-sensory exploration of the universe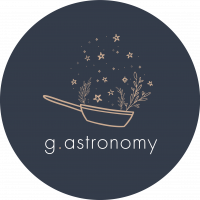 The experience that embraces nature and our heritage
The g.astronomy experience stimulates all five senses while it embraces nature and our heritage, the Earth and the Universe. We use food as an engaging metaphor for astronomy phenomena. Bliss & Stars' chef Arabella Parkinson has invited Johnny Hamman and Marius Uys from
Slippery Spoon
to her kitchen to capture the wholesome essence of nature and cosmos in every single plate. Together they create a tasting menu that explains various complex and far away concepts such as dark matter, dark energy, and the Big Bang. The menu not only depicts the concepts of astrophysics. It also grounds us deeply in Earth as it depends on what fresh produce is available in season, most of which is sourced from small close-by farms and from Bliss & Stars garden. The goodness of land comes alive in every dish.
9 - 11 April (SOLD OUT) | 23 - 25 July (SOLD OUT) | 24 - 26 September | 3 - 5 December
"Our goal is to bring astronomy down-to-earth and to make it more accessible. And break the assumption that astronomy can only be understood and experienced through the sense of sight."
DARIA & HEINE RASMUSSEN
OWNERS
Daria and Heine left their corporate careers and life in Denmark and moved to the bush in the remote Cederberg to create a dark sky sanctuary. A place to protect and experience the pristine night sky and embark on the inner and outer journeys of life appreciation.
OZZY YERLIKAYA
TRAVEL DESIGNER
The Experiential Evangelist Ozzy Yerlikaya. E.M. Forster's prescription to "only connect" can be tricky to put into practice when traveling—it's easy to leave a place only having spoken to a taxi driver or server. This Turkish-born Cape Town resident, however, opened his little South African black book in the city and fired up Travel Designer, corralling a fleet of Land Rover Defenders and taking travellers to meet an origami master, gallerists, a Porsche collector, even a political cartoonist. Trek up to Lion's Head and a champion barista may be there already to greet you with a freshly brewed coffee. A larger-than-life fixer who knows that ticking off the usual sights isn't the only way to get around.
Friday 5pm Welcome Drinks + Snacks 7pm Aperitif 8pm The Creation | Sensory Dinner & Astronomy Experience 11.30pm Good Night Saturday 7am Morning Snack 7.30am Time Travel | Hike to the Temple 1.30pm Silent Lunch 5pm Relaxation Practice 7pm Aperitif 8pm Rebirth | Sensory Dinner & Astronomy Experience Sunday 8am Sunrise Meditation + Mindful Movement 10am Brunch 12.30pm Goodbye
As a chef and holistic health coach, Arabella has spent the last eight years in the food industry. Classically trained and passionate about Eastern philosophy, she creates a space for these polarising traditions to converge. Ayurveda and its ancient healing properties integrated into classical French cuisine has enabled Arabella to heighten the senses and awareness of the powers of food. Food is medicine. Arabella's food, backed by a scientific approach with a comprehensive training in nutrition, has become a vessel for change and healing. Through sensory storytelling she creates space for you to reconnect with your relationship to food.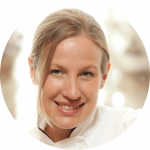 As a chef with more than twenty-five years' experience, Jocelyn has traveled thousands of kilometers to expand her culinary knowledge and experience on an international level.  She has studied both food and wine extensively and considers herself to be a perpetual teacher and student of these subjects.  Jocelyn says: Over the past twenty-five years, I have become very passionate about the culinary arts and the hospitality industry. I believe in setting high standards, a strong work ethic, organization, and perseverance to achieve goals. I trust my creative ability to develop culinary creations.
A multi-sensory & intimate experience
g.astronomy will break your perceptions and beliefs you hold about food, mind & body, and life in general. This experience will allow you to regain the lost respect for nature and its harvest, and connect to our origins, stars. g.astronomy is an invitation to a journey of all senses that brings us closer to what all of us look for – the memory of a taste that evokes serenity and wellbeing. Live a magical evening with interesting conversations, delicious culinary creations, stargazing surrounded by the beauty of the ancient Cederberg rock formations, and the star-studded night sky.
"In Europe, the relationship with food is rather detached. We often eat without paying attention to the multitudes of sensory experiences food offers. We also tend to prefer the taste to texture and judge the food by the sheer experience of sight."
YOUR ACCOMMODATION OPTIONS & PRICES
The entire experience is included in the stated prices. We never have extra "hidden" charges.
3 days | 2 nights accommodation
Relaxation practices 
Guided hike
Guided stargazing sessions
Snacks & beverages served throughout the day
Fine dining experiences
Free access to 1,350 ha of wild & pristine nature
Rest assured with COVID-19 safe protocols
Rest in spacious chalets that seamlessly mesh with nature
Be amazed by nature and observe the night sky through our state-of-the-art telescopes
Saunter in secluded mountainous areas
Relax & breath deeply with mindfulness practices
Discover Bushmen cave paintings
Build bonds with others in small groups of a maximum of 10 people
Share the living space with elands, baboons, Cape leopards and many more beautiful animals
Travel light with daily laundry service
Live a culinary & multi-sensory exploration of the universe
A few weeks before the retreat start,  you'll be sent a welcome letter giving lots of useful information about the retreat & this includes a guide on how to get here. If you need a transfer from the airport / Cape town, provide the details in the reservation form.
A few weeks before the retreat start, you'll be sent a welcome letter giving lots of useful information about the retreat & this includes a helpful guide on what to pack.
Bliss & Stars is not conducive to children. We have a minimum age requirement of 21.
We don't have any check-in or check-out times as soon as you arrange with us your arrival and departure times.
We can provide specific nutritional, dietary requirements, food allergies, food intolerance's etc. Vegan, vegetarian, gluten free options are always available.
Everyone is welcome at all of our retreats regardless of the meditation, yoga experience or fitness levels. We cater for different levels, so that you will be supported, challenged & encouraged to learn.
You don't need to participate in everything; you can pace yourself to find the perfect amount of activity for you. We support you in doing as much or as little as is right for you, depending on how you are feeling. Personally, we wouldn't want to miss a thing.
It's not possible to stay on at Bliss & Stars, unless you are attending the next retreat. We ask that you leave by 5pm on the closing day. Lunch is the last meal which you are welcome to stay for.
We offer personalized payment plans for all our retreats up to 2 month before the start date of the retreat.